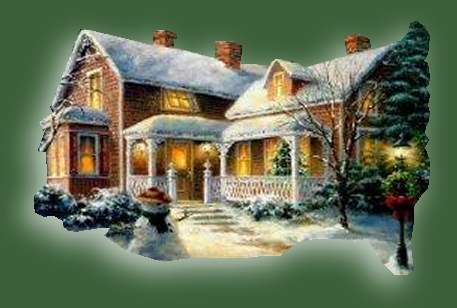 Christmas means going home.
Home is where your heart is.
Home is where you go for shelter.
Home is where you go to celebrate.
Home is where loved ones are.
Home is a feeling deep inside.

Going home for Christmas means
certain smells, certain textures,
certain sights and certain sounds.
It means family.
Home is the sight of the old-
fashioned Christmas tree in front
of the window and the wreath on
the front door. Home is the
smell of gingerbread cookies mixed
with the aroma of pine and a
roasting turkey. Home means the
feel of a hug from your Dad or a
kiss from your Grandchild. Home
is the feeling of the warmth of
the kitchen when everyone crowds
in to help cook Christmas dinner.
Home is the sound of carols being
sung by the Church choir or by the
children in the family. Home is the
awe on the face of the child
celebrating Christmas for the first
time.
Home for Christmas can be in my
house or it can happen wherever
my family gathers to celebrate the
holiday.


On these pages,
I invite you to join me and my family
in celebration of Christmas.
I hope you will take with you a sense
of what Christmas means to me.

Back to the Top

Christmas :: Going Home :: Christmas Stories
Giving Gifts :: Santa Claus :: Decorating I
Decorating II :: Traditions I :: Traditions II
Birth of Christ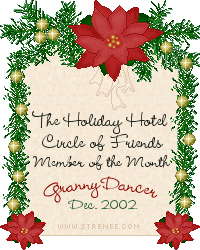 Home || Spring || Summer || Autumn || Winter

St. Patrick's Day || April Fool's Day || Easter || Mother's Day
Memorial Day || Father's Day || Independence Day || Friendship Day
Labor Day || Back to School || Grandparent's Day || Columbus Day
Halloween || Election & Return Day || Veteran's Day || Thanksgiving
Christmas || Hanukkah || Nutcracker Ballet || Secret Santa 2001
New Year's Day || Martin Luther King, Jr || Kwanzaa
Groundhog Day || Valentine's Day || President's Day || Mardi Gras
Arbor Day || Happy Birthday || Webrings || Awards || Flag Day
January || February || March || April || [May || June || July
August || September || October || November || December
Updated: January 07, 2006
©GrannyDancer Productions, 1999-2006
all rights reserved