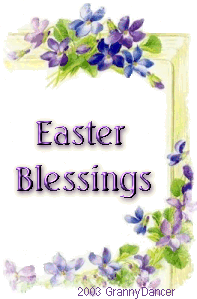 In my family, Easter was a special family holiday.
It was quite a feat to outfit nine children, but somehow, we all
got a new outfit to wear to Church on Easter Sunday!

Our day started with an outdoor Easter Sunrise service. Usually one
or more of us participated in the actual ceremony, since we we
all very active in our Church.

After the service, we went back to our Fellowship Hall and fixed a
pancake breakfast for everyone! Then, of course, we stayed at Church
for the regular Easter Sunday service.

After we got home, we were allowed to check our Easter Baskets to see what the
Easter Bunny had left for us. Chocolate was the favorite flavor of the day!

About 2:00 or 3:00 p.m., we had our family dinner. Certain foods are
still associated in my mind with those dinners. We had:
Baked Ham studded with cloves
Pickled Eggs and Beets
Macaroni and Cheese
Baked Pineapple
Carrot and Pineapple Jello Salad
Potato Salad
Raw Vegetable and Relish Tray
Homemade Bread
Lemonade Coffee Iced Tea
Coconut Cake<

Alleluia ~ He is Risen! [Easter Page Two]
Easter For Children! [Easter Page One]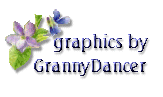 Home || Spring || Summer || Autumn || Winter

St. Patrick's Day || April Fool's Day || Easter || Mother's Day
Memorial Day || Father's Day || Independence Day || Friendship Day
Labor Day || Back to School || Grandparent's Day || Columbus Day
Halloween || Election & Return Day || Veteran's Day || Thanksgiving
Christmas || Hanukkah || Nutcracker Ballet || Secret Santa 2002
New Year's Day || Martin Luther King, Jr || Kwanzaa
Groundhog Day || Valentine's Day || President's Day || Mardi Gras
Arbor Day || Happy Birthday || Webrings || Awards || Flag Day
January || February || March || April || [May || June || July
August || September || October || November || December

Updated: January 07, 2006
©2000-2006GrannyDancer Productions
all rights reserved