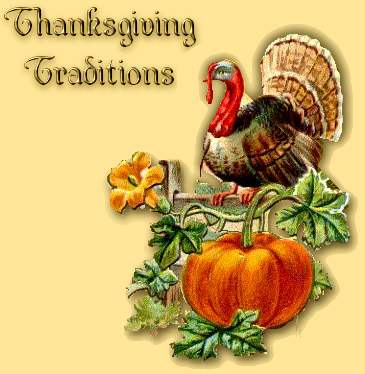 Autumn Fires

In the other gardens
And all up the vale,
From the autumn bonfires
See the smoke trail!

Pleasant summer over
And all the summer flowers,
The red fire blazes,
The gray smoke towers.

Sing a song of seasons!
Something bright in all!
Flowers in the summer,
Fires in the fall!

by Robert Louis Stevenson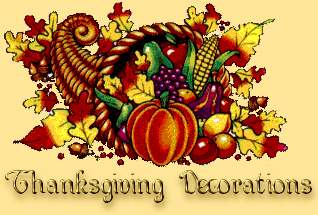 Standard decorations for Thanksgiving include natural,
harvest-related items, such as cornstalks, pumpkins,
gourds, wheat, cranberries, Autumn leaves,
chrysanthemums and other Autumn flowers.
While braiding together the dried tops attached to onions from your
garden, weave in a long strand of heavy string among them. When the
tops have been braided, make a loop at the end of the string so that the
strands can be hung as room decorations.
Collect and dry an assortment of colorful autumn leaves (place them
between tissue paper with heavy books on top for a week in
a warm room; this will ensure that the leaves dry flat). Once dried,
place the leaves on your table before setting down the serving bowls.
With string or thread and a couple of thin sticks, dried leaves make
interesting autumn mobiles, too.

Use heavy thread and a heavy-duty needle and
alternate cranberries ,kumquats and small dried leaves to create
a fragrant holiday garland. Use the garlands to decorate
serving platters, tables, and doorways

Hollow out small pumpkins or squashes to make containers for fresh
flowers, cranberry sauces, relishes, dips, soups, or individual
desserts. Cut a thin slice off the bottom so that the
pumpkin or squash will stand firm.

Gathering Leaves

Spades take up leaves
No better than spoons,
And bags full of leaves
Are light as balloons.

I make a great noise
Of rustling all day
Like rabbit and deer
Running away.

But the mountains I raise
Elude my embrace,
Flowing over my arms
And into my face.

I may load and unload
Again and again
Till I fill the whole shed,
And what have I then?

Next to nothing for weight,
And since they grew duller
From contact with earth,
Next to nothing for color.

Next to nothing for use.
But a crop is a crop,
And who's to say where
The harvest shall stop?

by Robert Frost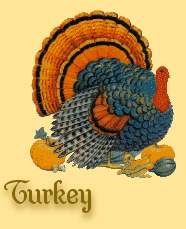 "I wish the Bald Eagle had not been chosen as the
representative of our country: he is a Bird of bad moral
character: like those among Men who live by Sharping and
Robbing, he is generally poor and very often lousy.

The Turkey is a much more respectable Bird and withal a
true original Native of North America"

Benjamin Franklin


The Turkey is the most well known of all the the
Thanksgiving symbols. The wild turkey is native to
the eastern United States and northern Mexico.

The turkey has brown features with buff-colored
feathers on the tips of the wing and on the tail. The
male turkey is called a Tom and is bigger and has
brighter and more colorful plumage. The female is
called a Hen and is generally smaller and drab in color.
The Tom turkey has a long wattle (a wrinkled, brightly
colored fold of skin hanging from the neck) at the base
of its bill and additional wattles on the neck, as well
as a tuft of bristles resembling a beard projecting
downward from its chest.

The turkey was originally domesticated in Mexico,
and was brought into Europe early in the 16th century.
Since that time, turkeys have been raised because
of the excellent quality of their meat and eggs.

There is no real evidence that turkey was served
at the Pilgrim's first thanksgiving, in a book
written by Governor Bradford, he does make
mention of wild turkeys. In a letter sent to
England, another Pilgrim describes how the
governor sent "four men out fowling" returning
with turkeys, ducks and geese.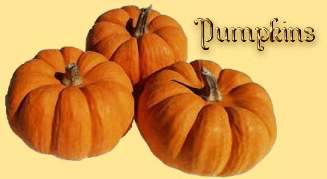 In addition to pumpkin pie, our family also likes to
serve "Harvest Pumpkin Bread"
************************************************************

1 cup sugar
1/4 cup Margarine
1/4 cup applesauce
2 eggs
1 cup (8 ounces) solid pack pumpkin
2 cups all-purpose flour
1/2 teaspoon salt
2 teaspoons baking powder
1/4 teaspoon baking soda
1 teaspoon ground cinnamon
1/2 cup raisins
1 teaspoon grated orange rind
1/4 cup orange juice
1/2 cup walnuts, chopped

DIRECTIONS:
Lightly grease a 9x5x3 inch loaf pan or coat with vegetable
spray. Beat sugar, margarine, and applesauce until creamy
and light (about 5 minutes). Add eggs one at a time and
continue to beat. Add pumpkin and mix until smooth. Combine
flour, salt, baking powder, baking soda, and cinnamon. Stir
into pumpkin mixture and mix until smooth. Add raisins,
orange rind, orange juice and nuts (optional). Stir well
and pour into loaf pan. Bake at 3500F for 60-65 minutes.
You can test for doneness by sticking a wooden pick into
loaf. If it comes out clean, the bread is done.

Makes one loaf




T...Turkeys, tablespreads, being together,

H...Happiness and homes to protect us from all weather,

A...Aunts and uncles, a reunion in Fall,

N...Nieces and nephews, family members all!

K...Kind-hearted kin coming over for dinner,

S...Surely you'll have fun, but you won't get thinner!

G...Gourds and pumpkins, mouths open wide.

I...Indians and Pilgrims we remember with pride.

V...Very special times-there could even be snow.

I...Imagine what it was like at Plymouth long ago.

N...Never forget how the settlers led the way,

G...Giving thanks and blessing this special day.

Author Unknown

click below to
Send a Thanksgiving Card


Thanksgiving :: Thanksgiving Lore :: American Thanksgiving



Home || Spring || Summer || Autumn || Winter

St. Patrick's Day || April Fool's Day || Easter || Mother's Day
Memorial Day || Father's Day || Independence Day || Friendship Day
Labor Day || Back to School || Grandparent's Day || Columbus Day
Halloween || Election & Return Day || Veteran's Day || Thanksgiving
Christmas || Hanukkah || Nutcracker Ballet || Secret Santa 2002
New Year's Day || Martin Luther King, Jr || Kwanzaa
Groundhog Day || Valentine's Day || President's Day || Mardi Gras
Arbor Day || Happy Birthday || Webrings || Awards || Flag Day
January || February || March || April || [May || June || July
August || September || October || November || December

©GrannyDancer Productions, 1999-2004
all rights reserved
Updated November 23, 2004