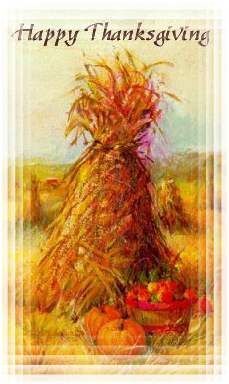 GrannyDancer's Holiday Home


In 1621, after a hard first year in the New
World, the Pilgrim's fall harvest was very
successful. There was corn, fruits,
vegetables, along with fish which was packed
in salt, and meat that was smoked over fires.
They found they had enough food to store
for the winter.

The Pilgrims had built homes in the wilderness,
they raised enough crops to keep them alive
during the long coming winter, and they were at
peace with their Indian neighbors. William Bradford,
the Governor, proclaimed a day of
thanksgiving that was to be shared by all the
colonists and their neighbors, the Native Americans.

The custom of an annual thanksgiving,
held after the harvest, continued through the
years. During the American Revolution a day
of national thanksgiving was suggested by
the Continental Congress.

In 1817, New York State adopted Thanksgiving
Day as an annual event. By the mid-19th
century many other states also celebrated a
Thanksgiving Day. In 1863 President Abraham
Lincoln proclaimed a national day of thanksgiving.
Since then every president has issued a Thanksgiving
Day proclamation, usually designating the fourth
Thursday of each November as the holiday.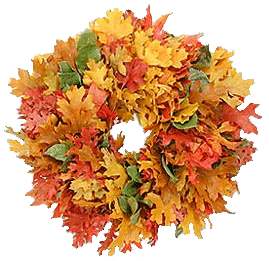 Thanksgiving

"Ah! on Thanksgiving Day, when from East and from West,
From North and from South come the pilgrim and guest,
When the grey-haired New Englander sees round his board
The old broken links of affection restored,

When the care-wearied man seeks his mother once more,
And the worn matron smiles where the girl smiled before,
What moistens the lip, and what brightens the eye?
What calls back the past, like the rich pumpkin pie?

O, fruit loved of boyhood! the old days recalling;
When wood-grapes were purpling and brown nuts were falling!
When wild, ugly faces were carved in its skin,
Glaring out through the dark with a candle within!

When we laughed round the corn heap, with hearts all in tune,
Our chair a broad pumpkin, our lantern the moon,
Telling tales of the fairy who traveled like steam
In a pumpkin-shell coach, with two rats for her team!

Then thanks for thy present! -- none sweeter or better
E'er smoked from an oven or circled a platter!
Fairer hands never wrought at a pastry more fine,
Brighter eyes never watched o'er its baking than thine!

And the prayer, which my mouth is too full to express,
Swells my heart that thy shadow may never be less,
That the days of thy lot may be lengthened below,
And the fame of thy worth like a pumpkin-vine grow,

And thy life be as sweet, and its last sunset sky
God-tinted and fair as thine own pumpkin pie!"

by John Greenleaf Whittier



The Online Chef
The Food Network



Thanksgiving

Gettin' together to smile an' rejoice,
An' eatin' an' laughin' with folks of your choice;
An' kissin' the girls an' declarin' that they
Are growin more beautiful day after day;
Chattin' an' braggin' a bit with the men,
Buildin' the old family circle again;
Livin' the wholesome an' old-fashioned cheer,
Just for awhile at the end of the year.

Greetings fly fast as we crowd through the door
And under the old roof we gather once more
Just as we did when the youngsters were small;
Mother's a little bit grayer, that's all.
Father's a little bit older, but still
Ready to romp an' to laugh with a will.
Here we are back at the table again
Tellin' our stories as women an men.

Bowed are our heads for a moment in prayer;
Oh, but we're grateful an' glad to be there.
Home from the east land an' home from the west,
Home with the folks that are dearest an' best.
Out of the sham of the cities afar
We've come for a time to be just what we are.
Here we can talk of ourselves an' be frank,
Forgettin' position an' station an' rank.

Give me the end of the year an' its fun
When most of the plannin' an' toilin' is done;
Bring all the wanderers home to the nest,
Let me sit down with the ones I love best,
Hear the old voices still ringin' with song,
See the old faces unblemished by wrong,
See the old table with all of its chairs
An I'll put soul in my Thanksgivin' prayers.

by edgar a. guest

Over the river and through the woods
Trot fast my dapple gray.
Spring over the ground
Like a hunting hound
On this Thanksgiving Day, Hey!
Over the river and through the woods
Now Grandmother's face I spy.
Hurrah for the fun,
Is the pudding done?
Hurrah for the pumpkin pie.

English folksong


Holiday Letters

T is for turkey on Thanksgiving Day,
H is for "Hurry, I'm hungry!" we say
A is for Auntie, she works and she mends,
N is for Native American friends.
K is for kitchen, the oven's on low,
S is for silverware, set in a row.
G is for Grandma, the one we love most,
I is for inside, where we're warm as toast.
V is for vegetables, eat them we try,
I is for ice cream on top of the pie.
N is for never do we have enough dressing,
G is for Grandpa, who gives thanks for our blessings.

author unknown

First Thanksgiving

If I had been a Pilgrim child
Among the fields and forests wild
Where deer and turkey used to roam,
A cabin would have been my home
With fireplace and earthen floor
And bearskins hanging at the door.
I would have gathered berries bright
For candles fragrantly alight,
And dug for clams and picked the corn
And laid the table smooth and worn.
Or hunted nuts hard-shelled and good
And helped in any way I could,
With time to laugh and play and run
When Indian children came for fun.
And on the first Thanksgiving Day
I would have met with friends to pray
And thank the Lord for all his care
In keeping us together there.

by Margaret Hillert


Thanksgiving: A Season Of Giving

Thank You
for all my hands can hold ---
apples red
and melons gold,
yellow corn
both ripe and sweet,
peas and beans
so good to eat!

Thank You
for all my eyes can see ---
lovely sunlight,
field and tree,
white cloud-boats
in sea-deep sky,
soaring bird
and butterfly.

Thank You
for all my ears can hear ---
birds' song echoing
far and near,
songs of little
stream, big sea,
cricket, bullfrog,
duck and bee!

by Ivy O. Eastwick
The Pilgrims Came

The Pilgrims came across the sea,
And never thought of you and me;
And yet it's very strange the way
We think of them Thanksgiving Day.

We tell their story old and true
Of how they sailed across the blue,
And found a new land to be free
And built their homes quite near the sea.

Every child knows well the tale
Of how they bravely turned the sail,
And journeyed many a day and night
To worship God as they thought right.

The people think that they were sad
And grave; I'm sure that they were glad ---
They made Thanksgiving Day --- that's fun ---
We thank the Pilgrims every one!

by Annette Wynne


Thanksgiving :: Thanksgiving Traditions :: American Thanksgiving

Home || Spring || Summer || Autumn || Winter

St. Patrick's Day || April Fool's Day || Easter || Mother's Day
Memorial Day || Father's Day || Independence Day || Friendship Day
Labor Day || Back to School || Grandparent's Day || Columbus Day
Halloween || Election & Return Day || Veteran's Day || Thanksgiving
Christmas || Hanukkah || Nutcracker Ballet || Secret Santa 2002
New Year's Day || Martin Luther King, Jr || Kwanzaa
Groundhog Day || Valentine's Day || President's Day || Mardi Gras
Arbor Day || Happy Birthday || Webrings || Awards || Flag Day
January || February || March || April || [May || June || July
August || September || October || November || December

Updated: November 21, 2004
©GrannyDancer Productions, 1999-2004
All rights reserved